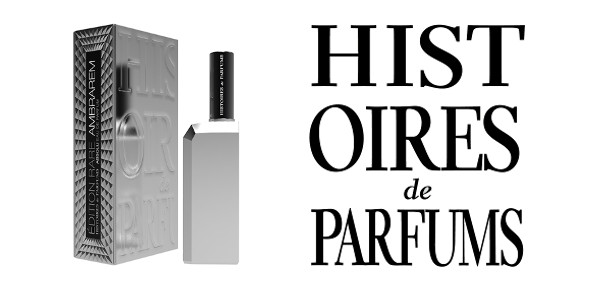 Histoires de Parfums – Ambrarem

a Scent Samples review
Ambrarem is one of 3 fragrances from the "Éditions Rare" line by French perfume house, Histoires de Parfums. The concept behind the fragrance is to encapsulate some of the finest animalic accords into one fragrance, so be prepared for this one as it's not for the faint of heart. It's typically the most polarizing fragrances that create controversy amongst perfumistas, and Ambrarem is no exception.
I should firstly say that Histoires de Parfums have some amazing creations and the perfumer and founder of the house, Gérald Ghislain has managed to create some exceptional works. After smelling many of their perfumes, I happily regard the house as quintessential French perfumery and appreciate each of their fragrances for their artistic appeal regardless of personal tastes. They are for perfume created for connoisseurs so I dare say many will find Ambrarem a little daring to begin with in part due to it's dirty and animalic undertones. With this said, Ambrarem is largely an Amber based fragrance, as the name would suggest, so lovers of the note will have good reason to sniff it out all the same.
It opens with a bold and resinous aroma carrying a strong and definite Amber accord. The top notes of Elemi Resin and Pink Peppercorn are apparent and create an aggressive and punchy opening. This initial feeling it provides is dry, bold and animalic with a subdued sweetness. The heart contains Iris, Oud and Saffron, an unlikely trio that create a dirty, floral feel, adding depth and contrast to the mix. The Iris and Saffron notes are soft and subtle though still detectable amongst the other abrasive ingredients. By far the most obnoxious note here is Castoreum (beaver secretion) supported in the base by Bourbon Vanilla, Sandalwood and Amber. It's the Castoreum that many will find issues with, but I personally love the musky, animalic aroma it provides. Vanilla and Amber are commonly used together in perfumes as they are complimentary notes that serve to create an oriental accord, so in this case they help to soften up the blend with warmth and sweetness. Overall the notes mesh together well together and I would classify the perfume as an Oriental with a unique twist.
Given the potency of Ambrarem's ingredients I was surprised to find the longevity and performance only slightly better than average. The scent screams at you for the first few hours then softens into a sweet, ambery skin scent, with the Castoreum lingering and apparent. As a skin scent it will likely be appreciated by others whom have the opportunity to get so close but for those catching a whiff once you've left the room, I imagine the experience to be vastly different. This will be the polarizing effect the fragrance has due its musky and sensual nature. Due to its harsh opening, it's hard to regard Ambrarem as versatile and it's best reserved for cooler evening or winter wear. I can see its aroma cutting though the cold weather like a hot knife through butter and this would certainly be the best time to use it, though sparingly. I've found 3-4 sprays is acceptable when wearing, and feel that any more would be quite overwhelming and unnecessary.
The Verdict
I was extremely excited to get my nose on Ambrarem after hearing good things about it and it's indeed proven to be every bit worthwhile waiting for. For lovers of adventurous and daring fragrances, it delivers in every way, but for the average Joe, Ambrarem may simply prove too complex. It's combination of resinous, animalic and oriental notes, serve to create something that is full of warmth and character. Take it or leave it, it's a perfume that commands respect for the sheer artistry of its composition.
The Rating
4 out of 5 stars
"Bold, creative and unapologetic in every possible way "
---
Ambrarem retails in the UK for £115 in 60ml size only and can be found at select boutiques and the Histories de Parfums website.
Compares to the following Fragrances:
---
Reviewed by
Patrick Cantwell - Fragrance Expert and Founder of Scent Samples