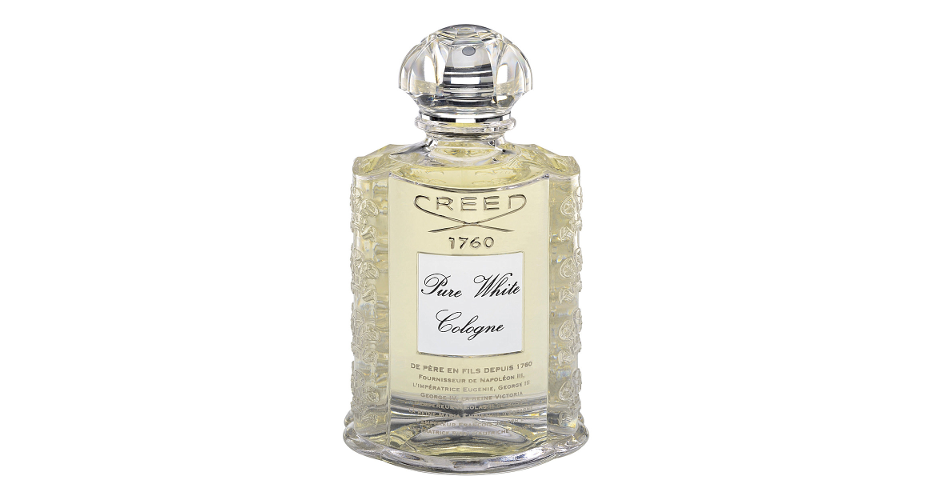 CREED – Pure White Cologne

a Scent Samples review

Pure White Cologne is a men's fragrance inspired by Cologne's of the Regency and Victorian era. Created by Olivier Creed in 2011, Pure White Cologne takes you on an unexpected journey for a fragrance of it's type.

The initial smell is quite aromatic which I find has a borderline green accord. The scent gives you an impression of authentic Mediterranean fruits, with top notes of lemon, Italian grapefruit and Sicilian bergamot. After the first hour of wearing, the fruitier notes fade away making room for a heart of neroli, galbanum and sweet pear. The neroli is really the key note of the fragrance as with many cologne style fragrances, so there's no surprise there. The base features notes of ambergris, white musk and rice powder which makes for a fairly typically Creed base accord, that can be found in many of their other scents.
Pure White Cologne is perfect to be worn for a wide range of occasions, including casual or formal wear and especially in the workplace. It's extremely versatile like many other Creed fragrances, and I'd recommend it for those looking for a one size fits all Creed scent.
I find quite a heavy comparison between Pure White Cologne and Tom Ford's Neroli Portofino, which is obviously down to the neroli and fruity notes that both scents feature. It's also been said that it compares to one of Creed's earlier releases, Himalaya, though can't fully agree with this this as Himalaya is a fair bit heavier with a more oriental quality. What could be the cause of this comparison? It's likely the lemon and bergamot top notes mixing with the ambergris base, that both scents feature, though I just put this down to the usual style of Creed perfumery and their preferred ingredients which are used in many of their compositions.
What I like most about Pure White Cologne is its strength and longevity, which is rare for a Creed scent, as they're not typically known for great performance. For a cologne it performs extremely well, which for me, makes the scent all the better. It holds onto the fabric of clothes like the smell freshly picked fruit on your hands hours after picking. I picked up an item of clothing the day after wearing, and the smell was just as prominent as when I took it off the previous day.
As an fragrance enthusiast, I've enjoyed Pure White Cologne for a while, and have been a frequent wearer. It's proven to be a huge compliment getter for me, and people have often enjoyed its sillage as it floats through the air in passing. This was no surprise to me, as this exact scenario was the reason I picked up the bottle in the first place, after getting a whiff from another wearer.
The Verdict
Pure White Cologne is a lovely fragrance and is relatively unique for a cologne. It's a personal favourite of mine that I would recommend to anybody including women, even though it's recommended for men. It's strong opening may feel a bit off putting to the casual wearer but it's likely most people will enjoy wearing it despite the high price tag.

The Rating

4 out of 5 stars.

"A classic Creed fragrance that exceeds the expectations one has from the house"

Pure White Cologne retails in the UK for an average of £375 for 75ml and can be found in department stores.

Compares to the following Fragrances:

Tom Ford – Neroli Portofino
Creed - Aventus
---
Reviewed by
Bradley Stone – Lead Contributor at Scent Samples