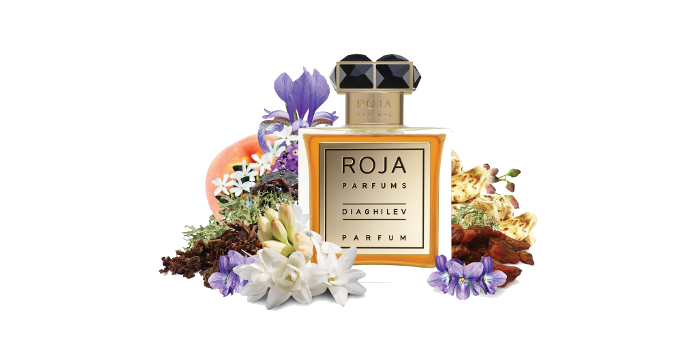 ROJA PARFUMS - Diaghilev
a Scent Samples review
Inspired by Sergei Diaghilev the 20th Century art critic and ballet impresario, this unisex Floral-Chypré was intended to encapsulate a period that brought new vigor and creativity to musical compositions. The Russian Ballet which Diaghilev so lovingly re-invented, was but one example of this evolution of arts and culture at the turn of the 20th Century.
For those new to the house of ROJA Parfums and the fragrances of perfumer Roja Dove, it may on first impressions appear that the high prices and what some may call kitsch packaging, are but a marketing ploy aimed at individuals with more disposable income than most. These brand characteristics of course exclude many people from even attempting to sample, let alone own one of the ROJA creations though it should be noted that the brand exhibits some of the finest fragrances on the market so in this case you do tend to get what you pay for.
Diaghilev is as bold and unapologetic as the ROJA Parfums brand itself and when first applied, provides you with an overwhelming dose of florals that hit hard like a punch to the nose. The notes in ROJA fragrances are extensive and top notes include lemon, bergamot, lime, orange and tarragon all of which are soft, subtle and hard to detect. The lush, floral heart includes Rose de Mai, Jasmin, Tuberose, Ylang Ylang, Heliotrope, Violet, Blackcurrant Buds and Peach, which are for me the notes on which the entire composition is centered around. They are so masterfully blended, they create a rich floral accord that doesn't lend itself too much to either flower and in doing so, keeps Diaghilev far away from simpler, more one dimensional floral fragrances. The many complex base notes (too many of which there are to list) create a perfect bed for which the florals sit, adding a woody, softly spiced and creamy dimension to the blend. The perfumer Roja Dove, who is also the man behind the brand, puts a huge emphasis on sourcing the finest and rarest ingredients for his fragrances and Diaghilev is testament to this. The smell is seductive, rich and opulent and will make you feel like exalted royalty while wearing it. The level of quality here is undeniable!
I find the scent itself to be fairly linear and the most developement occurs within the first half hour as it blends with the skin. It's not to say this is a bad thing. It's just one of those fragrances that offers you all the glory and splendor of its character from the first spray. Of course it quietens down over the duration of wearing, but the smell for the most part is the same throughout.
Performance wise Diaghilev is top tier and continues to last for many hours on the skin. It's unlikely you will completely remove the scent until you've taken your first shower or bath after wearing. The parfum concentration means you only need only 1-2 sprays maximum, any more would simply be a waste and likely offensive to those around you. This strength lends a plus to its pricing, as when applied sparingly, the bottle will last longer, and ultimately give you better value for money.
Most would reserve wearing Diaghilev for strictly black tie events and the same could likely be said about the entire ROJA Parfums range. I myself see it being more suitable for cooler evening wear as it's very heavy and certainly not something one would want to wear during high heat. It's not a fragrance to wear casually that much is sure, but the right person may favour it as a signature scent if they could justify it. I do find the fragrance lends itself slightly more to female wearers and would advise men who wear this to be confident in their ability to pull off such a fragrance. The floral notes are incredibly obnoxious and must be respected, so be warned.
The Verdict
It's not very often such a floral heavy fragrance peaks my interest and captures my imagination. Diaghilev has not only achieved this but broken all expectations I have from floral compositions in general. With Diaghilev, Roja Dove has proven the boundaries of gender preferable notes can be shifted in unimaginable ways through expert blending and craftsmanship. It will be a love or hate affair for most people but Diaghilev is still a fragrance worthy of respect for its execution.
Rating
5 out of 5 stars
"A striking expression of sensuality and a bench mark perfume for the Floral-Chypre genre".
Diaghilev retails in the UK for £795 for 100ml and can be found at ROJA Parfums boutiques and website.
---
Reviewed by
Patrick Cantwell - Fragrance expert and founder of Scent Samples